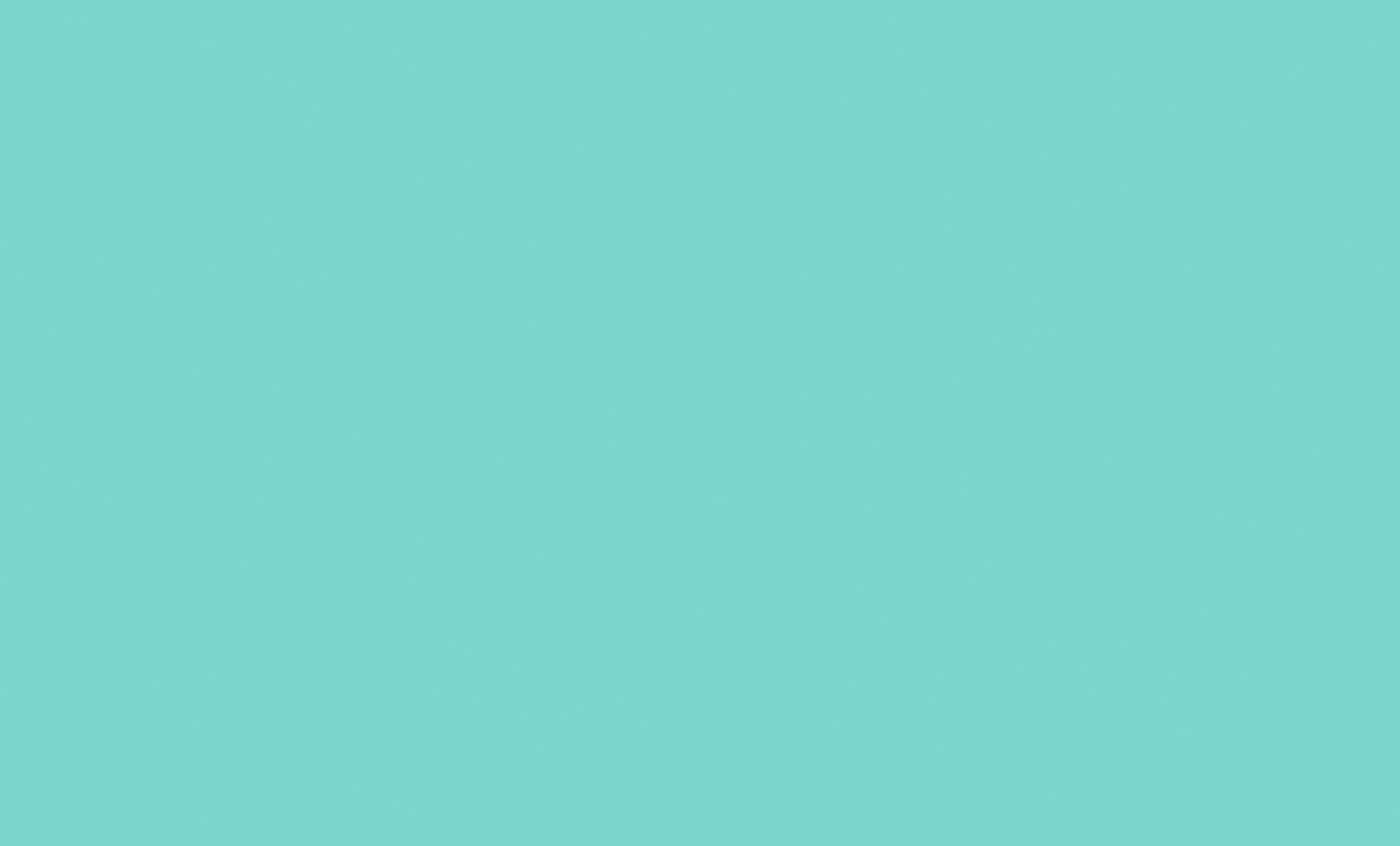 WAYSIDE
timeline: 4 weeks
ui/ux group project
In this 4-week project, I worked collaboratively with 4 other students in the class to develop an application concept from the ground up. Design decisions were made using the joint efforts of the team and, wherever possible, we collaboratively conducted research, user testings, and gathered feedback to drive the direction of our final product. Before we started, we knew we wanted to tackle on improving travel experiences for modern users.


Project Timeline
Week 1: Each group member independently studied a particular user journey to identify design opportunities.


Week 2: We started consolidating our ideas into a single product direction. This week covered developing the strategy and scope, brainstorming a preliminary structure and sketching skeleton ideas independently using the parallel design process to bring our ideas together and consolidate the design.

Week 3: On the third week, we tested our ideas, finalized the design, created a visual brand and style guide, and finalized the app's prototypes.

Week 4: Team presented overall process and final prototype!


Introduction
How can you record, annotate, and share your travel journeys along the path that you take?


When traveling, a lot of people get exhausted researching different itineraries and checking whether each landmarks are close to one another. Wayside is a travelling itinerary super app that combines both the convenience of planning an itinerary and creating an itinerary. Since this app is route based, you can get plan more realistically and gain inspiration by looking at where your friends have been to and also share your trip easily with others.


Preliminary Research
50% of US travelers are looking for assistance, things to do, and recommendations
In 2018, US residents alone logged a total of 1.8 billion trips and over 50 percent of those travelers are looking for assistance, things to do, and recommendations. This statistic goes to show that many travelers seek comfort in researching and having full control over their trips than having an unclear plan/itinerary.
According to Topdeck Travel, in a survey of 31,000 people from 134 different countries



"Any time I travel and want to check out a new restaurant, I look up that place on Instagram's geotags to see all the photos people posted at that location."
Rachel Coleman, Condé Nast Traveler's social media director
Design Challenge
How can we make this traveling process simpler, easier, and more cohesive?
User Interviews
After we had done some preliminary research about what's happening in the greater community, we turned to the primary sources around us. Within these spheres, we asked about many different topics to get a gauge in more depth about peoples experiences. The topics were social media, booking, planning, finding, discovering and recording and upon research, we found that users were mainly interested in the social media, discovering and planning aspect and these were the opportunity areas we wanted to work on.
To understand the problem scope and the traveling experience better, we conducted 25 interviews and 50 online surveys to comprehend user pain points with existing platforms which allowed us to identify areas to work on in this problem space. Through this user research, we wanted to understand how possibly an "all-in-one" super app model could be used, in context of modern day travelling where people conveniently utilize social media to get inspirations and plan their ideal trip. Constructive insights gained at the end of this research aided us in our design phase to address the problem.
Looking for Recommendations


"To me, they both try to fill in a pretty big gap in the existing map/route/direction mobile apps - suggesting routes based on more 'personal' factors, things less concrete than estimated time or avoiding tolls, etc."
33% of our users said that they enjoy looking for recommendations when researching. However, as one user pointed out, recommendation is a function that already exists in current mobile apps (maps, route, direction apps) and so this wouldn't be a unique selling point for Wayside. With recommendations, users felt most intrigued by the idea of personalization and is it specifically catered to each individual and his or her own needs.
Looking for Itineraries

"If one could learn why someone else decided on a particular route or restaurant, etc. Similarly, I wouldn't particularly mind sharing a route/recommendations with others if I knew what those people wanted."

66% of our users said that they love looking for itineraries when researching for their trips and emphasized on the story-telling portion of itineraries. This pushed us to think of travel diary apps that help users document travel journeys using geo-located media (photos, videos, text, etc.) and visualize routes they have taken in their travels.


Looking for Rewards

"I don't have enough sources of points/rewards to make it worthwhile. Don't think it's necessarily a feature I look for when researching."
0% of our users said that they look for rewards programs for travelling. This feature seemed to be missing in a lot of existing competitor apps/sites so we thought it'd be interesting to research and see how users felt about it and results showed users felt indifferent.
Social Media Users

"Sharing photos on Instagram acts like a photo diary for my trips and places I've visited."
85% of our researched users were actively used social media, 63% of them said that they used social media to help them find accommodations and to-do recommendations and 85% of the users said they enjoyed sharing their details and photos of their trip. This research informed us that this experience will need to take into account both private use (an individual documenting for personal reasons) and public use (an individual documenting for social sharing and publication).
Defining Scope
We defined our critieria of inclusion through how people reacted to certain application request. After we worked through the research, we decided there was a market for the inclusion of four forms of travel engagement.


1. Itinerary
2. Photography
3. Annotation
4. Sharability
Competitive Analysis
How does the market stand up?
We looked into apps that both delivered some of these services and also some that were defined through the research. We found that many don't provide a comprehensive availability of features that allow you to create, record, and sharing your paths throughout your travels.
User Personas
Personal Traveler

Someone who is looking to keep a record of where they have gone, and wants to share that with close friends and family.


Social Media Influencer
Someone who regularly and is maybe even paid to post about their travels. Someone who wants to curate their experience and put them out there for the world to see.


Hospitality
Hotel chains or experience creators who want to define an itinerary for a visitor to follow. Provides a reference or simple map to use depending on the experience they are looking for.

User Journey Flow
Based on the user personas, we began to construct the user journey flow. This allowed us to locate the potential sources of frustration for users and identify the necessary features to implement in our app to solve this problem.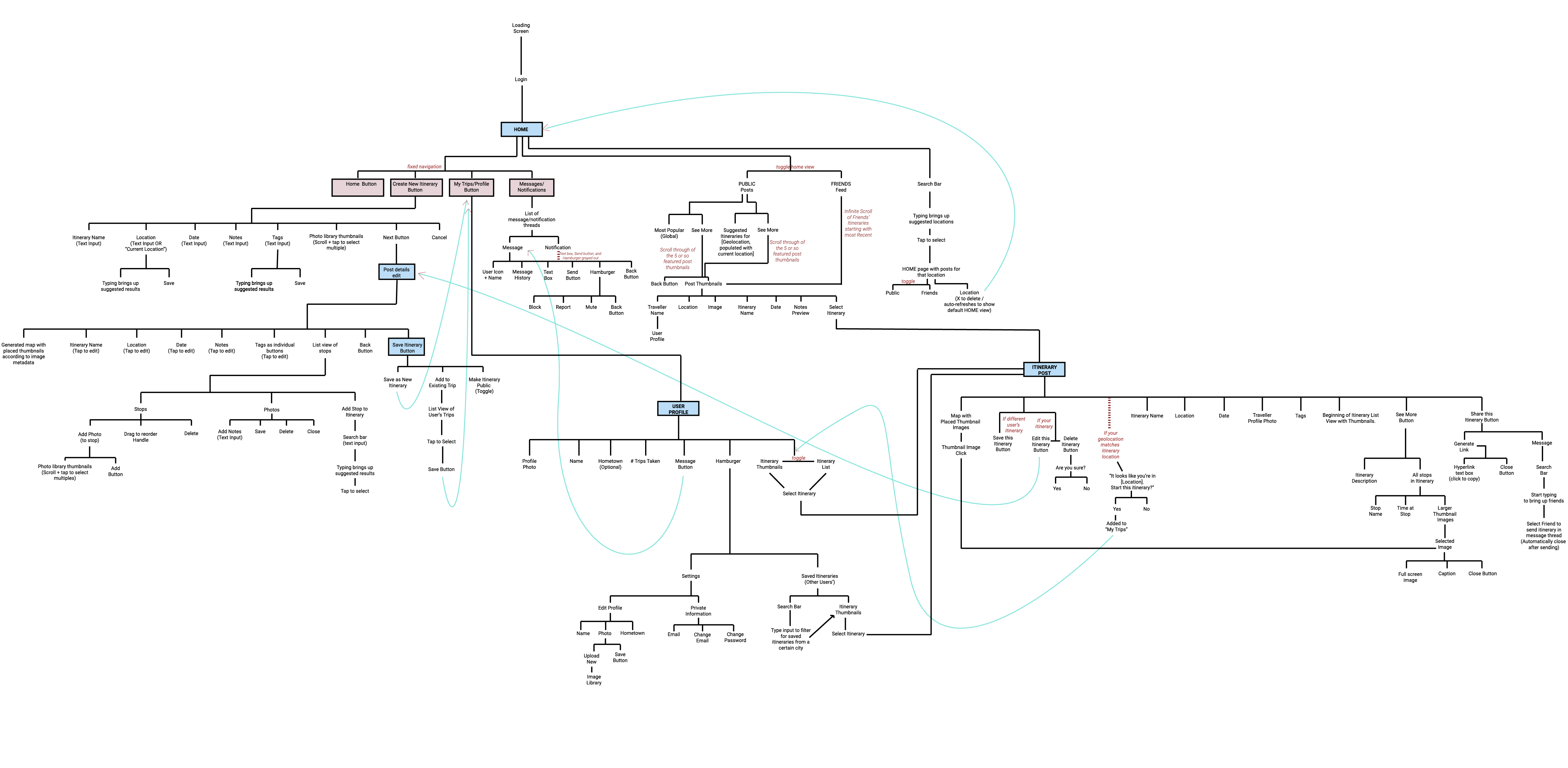 Brand Style Guide
The logo was designed to illustrate how Wayside is a route-based itinerary sharing app. Mint green and soft blue were chosen as our main branding colors because blue evokes images of the ocean and green evokes images of nature. The geometric sans serif 'Mabry Pro' is lighthearted, quirky and playful which are all feelings we want to share with our users. The color are subdued to retain the vibrancy of images and for images/maps/routes to take more real estate on the screen.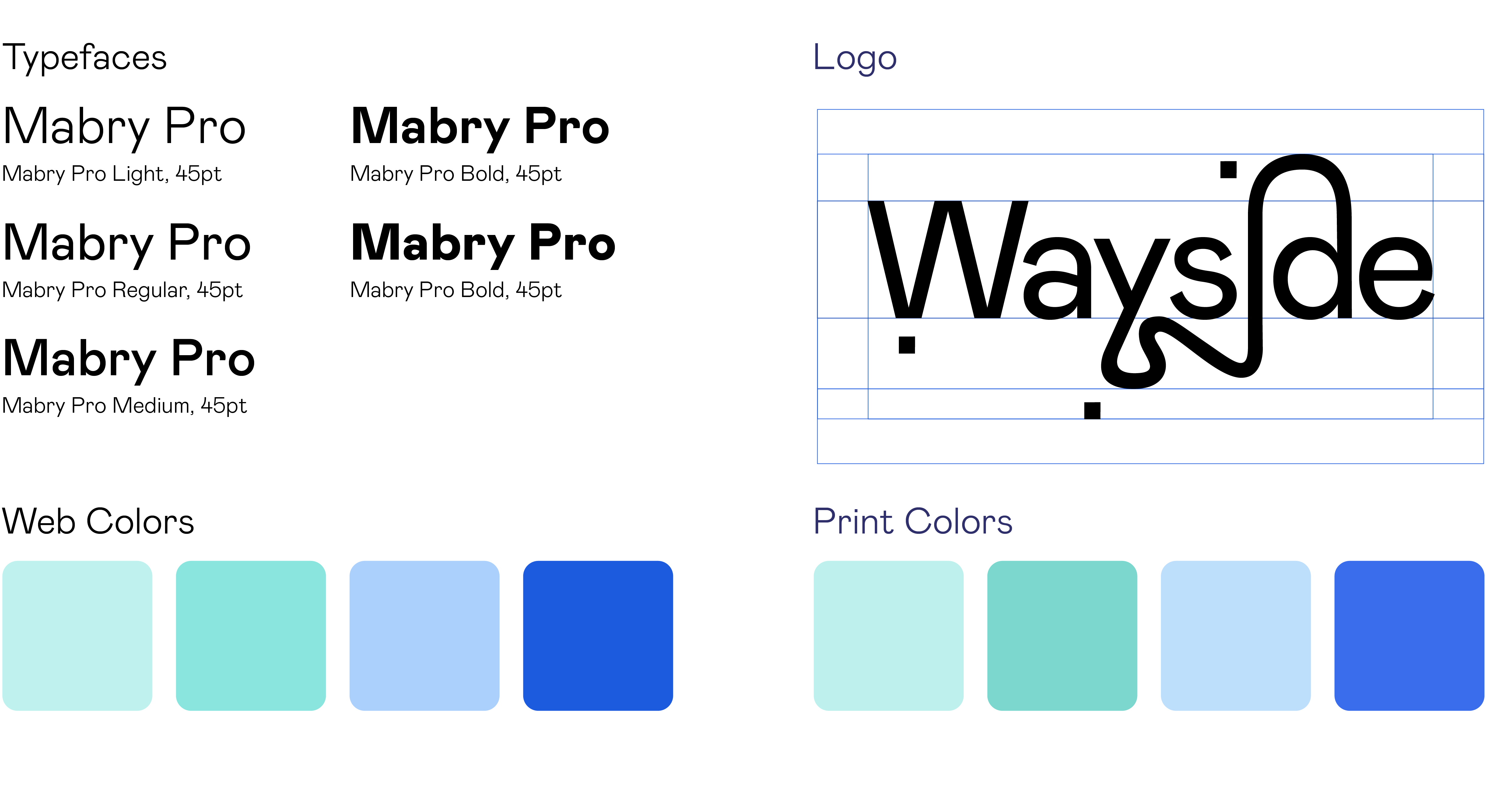 Hi-Fi Mockups
After finishing the style guide, we sketched out a couple of initial wireframes and added our colors to see how it looked in real life application. We wanted to make sure our branding was communicative of our app and that the visual language extended into the app itself.
Promotional Video
With the finalized design, my group and I decided to make a promotional video to showcase how the app works. This gave context to how Wayside could be used in real life and the narrative allows people to get better perspective.