UBER
product design intern
team: uber.com
Uber.com showcases different services Uber has to offer and maintains 11+ websites that are localized in 60+ countries around the world. Over the course of 12 weeks, I worked on 4 different projects (driver guarantees, global citizenship, redesigning search bar and products menu) and was given the opportunity to work with other designers, design engineers, software engineers, project managers, marketing managers and legals. I would like to thank my entire Uber.com design team in particular (James Song, Diego Tres, Gabriela Medina, Nancy Yang, Hugo Gomes, Chanelle D'Andria, Christian Rauh) for helping me learn and grow as a designer over the summer.


Design Challenge
The main project I worked on was the 'Driver Guarantees', a product that allows first-time drivers to see their earning potential before signing up. Driver guarantees essentially promises drivers x amount of money in x city in the first month they drive with Uber.

The main design challenge for my project was to design a block solely dedicated to driver guarantees that could be flexibly used by different content authors on Uber.com. Furthermore, the driver guarantees program enables first-time drivers to feel assured of their income potential, therefore, it was crucial that they were aware of the existence of the program. However, due to NDA terms, I am unable to disclose any specific details of my project publicly.

Design Process
Research + Audit
When I was first assigned this project, I reached out to a number of UX researchers to get a better understanding of how users have responded to Uber.com's existing driver guarantees (i.e what they felt was working and what they felt was missing). Then I began auditing other existing guarantee programs to identify how their guarantee programs engage with their users.


Identify User Problems + Define Scope
Looking into research findings helped me identify user pain points and key areas for improvement. I worked with the product team to list design priorities, logistical issues and technical difficulties to narrow down the scope of this project.


Design Iterations
With the narrowed scope in mind, I began ideating multiple design solutions in different fidelities but drastic changes had to be made along the process due to time constraints, technical difficulties and abrupt changes with copy. From here, I learned to keep everyone in the loop even on minor design changes as the scope narrowed down even more over time.



Final Product + Launch
Once all the high fidelity design was finalized, I used Principle (prototyping tool) to prototype the final design out so that engineers could visualize the motion I envisioned. Feel free to email me to see the final product!


Key Takeaways
Understand the Users
As an avid user of Uber, I imagined my first-hand experience as a rider would come in handy but because Uber.com dealt with users ranging from riders, drivers, eaters, deliverers, content authors, publishers, and many more, I realized my experience was specific to a single use case. I found reframing my design questions and deliberately putting myself in the shoes of others helpful in understanding what users may need, want and feel.


Stay Proactive
When I first came to Uber, there were so many questions I wanted to ask and so many technical jargons I did not understand but I was too afraid to ask. I realized, in the second week of my internship, that all these unanswered questions only inhibited the process. That's when I began proactively reaching out to people and asking them for help and feedback. People are usually willing to help in any way they can so don't be afraid to ask questions any time and all the time.


Timebox Task
I'm a big fan of the exploratory phase. I often find myself engrossed in the ideation process and don't seem to settle on a design soon enough. But during my internship, I learned to better time box my tasks by narrowing the projects scope down and streamlining the process. This allowed me to use my time more efficiently and still reach an optimal solution.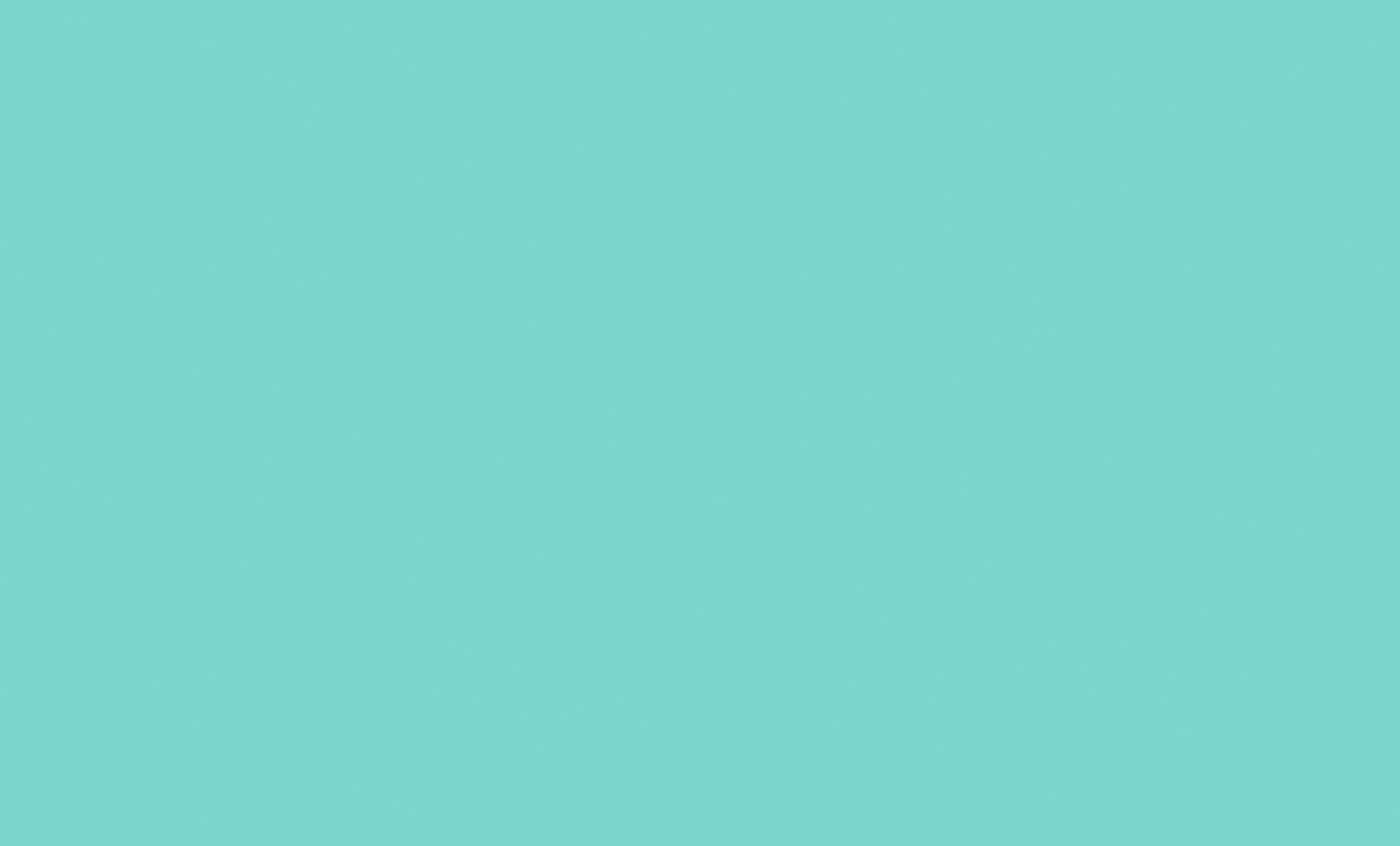 WAYSIDE
timeline: 4 weeks
ui/ux group project
In this 4-week project, I worked collaboratively with 4 other students in the class to develop an application concept from the ground up. Design decisions were made using the joint efforts of the team and, wherever possible, we collaboratively conducted research, user testings, and gathered feedback to drive the direction of our final product. Before we started, we knew we wanted to tackle on improving travel experiences for modern users.


Project Timeline
Week 1: Each group member independently studied a particular user journey to identify design opportunities.


Week 2: We started consolidating our ideas into a single product direction. This week covered developing the strategy and scope, brainstorming a preliminary structure and sketching skeleton ideas independently using the parallel design process to bring our ideas together and consolidate the design.

Week 3: On the third week, we tested our ideas, finalized the design, created a visual brand and style guide, and finalized the app's prototypes.

Week 4: Team presented overall process and final prototype!


Introduction
How can you record, annotate, and share your travel journeys along the path that you take?


When traveling, a lot of people get exhausted researching different itineraries and checking whether each landmarks are close to one another. Wayside is a travelling itinerary super app that combines both the convenience of planning an itinerary and creating an itinerary. Since this app is route based, you can get plan more realistically and gain inspiration by looking at where your friends have been to and also share your trip easily with others.


Preliminary Research
50% of US travelers are looking for assistance, things to do, and recommendations
In 2018, US residents alone logged a total of 1.8 billion trips and over 50 percent of those travelers are looking for assistance, things to do, and recommendations. This statistic goes to show that many travelers seek comfort in researching and having full control over their trips than having an unclear plan/itinerary.
According to Topdeck Travel, in a survey of 31,000 people from 134 different countries



"Any time I travel and want to check out a new restaurant, I look up that place on Instagram's geotags to see all the photos people posted at that location."
Rachel Coleman, Condé Nast Traveler's social media director
Design Challenge
How can we make this traveling process simpler, easier, and more cohesive?
User Interviews
After we had done some preliminary research about what's happening in the greater community, we turned to the primary sources around us. Within these spheres, we asked about many different topics to get a gauge in more depth about peoples experiences. The topics were social media, booking, planning, finding, discovering and recording and upon research, we found that users were mainly interested in the social media, discovering and planning aspect and these were the opportunity areas we wanted to work on.
To understand the problem scope and the traveling experience better, we conducted 25 interviews and 50 online surveys to comprehend user pain points with existing platforms which allowed us to identify areas to work on in this problem space. Through this user research, we wanted to understand how possibly an "all-in-one" super app model could be used, in context of modern day travelling where people conveniently utilize social media to get inspirations and plan their ideal trip. Constructive insights gained at the end of this research aided us in our design phase to address the problem.
Looking for Recommendations


"To me, they both try to fill in a pretty big gap in the existing map/route/direction mobile apps - suggesting routes based on more 'personal' factors, things less concrete than estimated time or avoiding tolls, etc."
33% of our users said that they enjoy looking for recommendations when researching. However, as one user pointed out, recommendation is a function that already exists in current mobile apps (maps, route, direction apps) and so this wouldn't be a unique selling point for Wayside. With recommendations, users felt most intrigued by the idea of personalization and is it specifically catered to each individual and his or her own needs.
Looking for Itineraries

"If one could learn why someone else decided on a particular route or restaurant, etc. Similarly, I wouldn't particularly mind sharing a route/recommendations with others if I knew what those people wanted."

66% of our users said that they love looking for itineraries when researching for their trips and emphasized on the story-telling portion of itineraries. This pushed us to think of travel diary apps that help users document travel journeys using geo-located media (photos, videos, text, etc.) and visualize routes they have taken in their travels.


Looking for Rewards

"I don't have enough sources of points/rewards to make it worthwhile. Don't think it's necessarily a feature I look for when researching."
0% of our users said that they look for rewards programs for travelling. This feature seemed to be missing in a lot of existing competitor apps/sites so we thought it'd be interesting to research and see how users felt about it and results showed users felt indifferent.
Social Media Users

"Sharing photos on Instagram acts like a photo diary for my trips and places I've visited."
85% of our researched users were actively used social media, 63% of them said that they used social media to help them find accommodations and to-do recommendations and 85% of the users said they enjoyed sharing their details and photos of their trip. This research informed us that this experience will need to take into account both private use (an individual documenting for personal reasons) and public use (an individual documenting for social sharing and publication).
Defining Scope
We defined our critieria of inclusion through how people reacted to certain application request. After we worked through the research, we decided there was a market for the inclusion of four forms of travel engagement.


1. Itinerary
2. Photography
3. Annotation
4. Sharability
Competitive Analysis
How does the market stand up?
We looked into apps that both delivered some of these services and also some that were defined through the research. We found that many don't provide a comprehensive availability of features that allow you to create, record, and sharing your paths throughout your travels.
User Personas
Personal Traveler

Someone who is looking to keep a record of where they have gone, and wants to share that with close friends and family.


Social Media Influencer
Someone who regularly and is maybe even paid to post about their travels. Someone who wants to curate their experience and put them out there for the world to see.


Hospitality
Hotel chains or experience creators who want to define an itinerary for a visitor to follow. Provides a reference or simple map to use depending on the experience they are looking for.

User Journey Flow
Based on the user personas, we began to construct the user journey flow. This allowed us to locate the potential sources of frustration for users and identify the necessary features to implement in our app to solve this problem.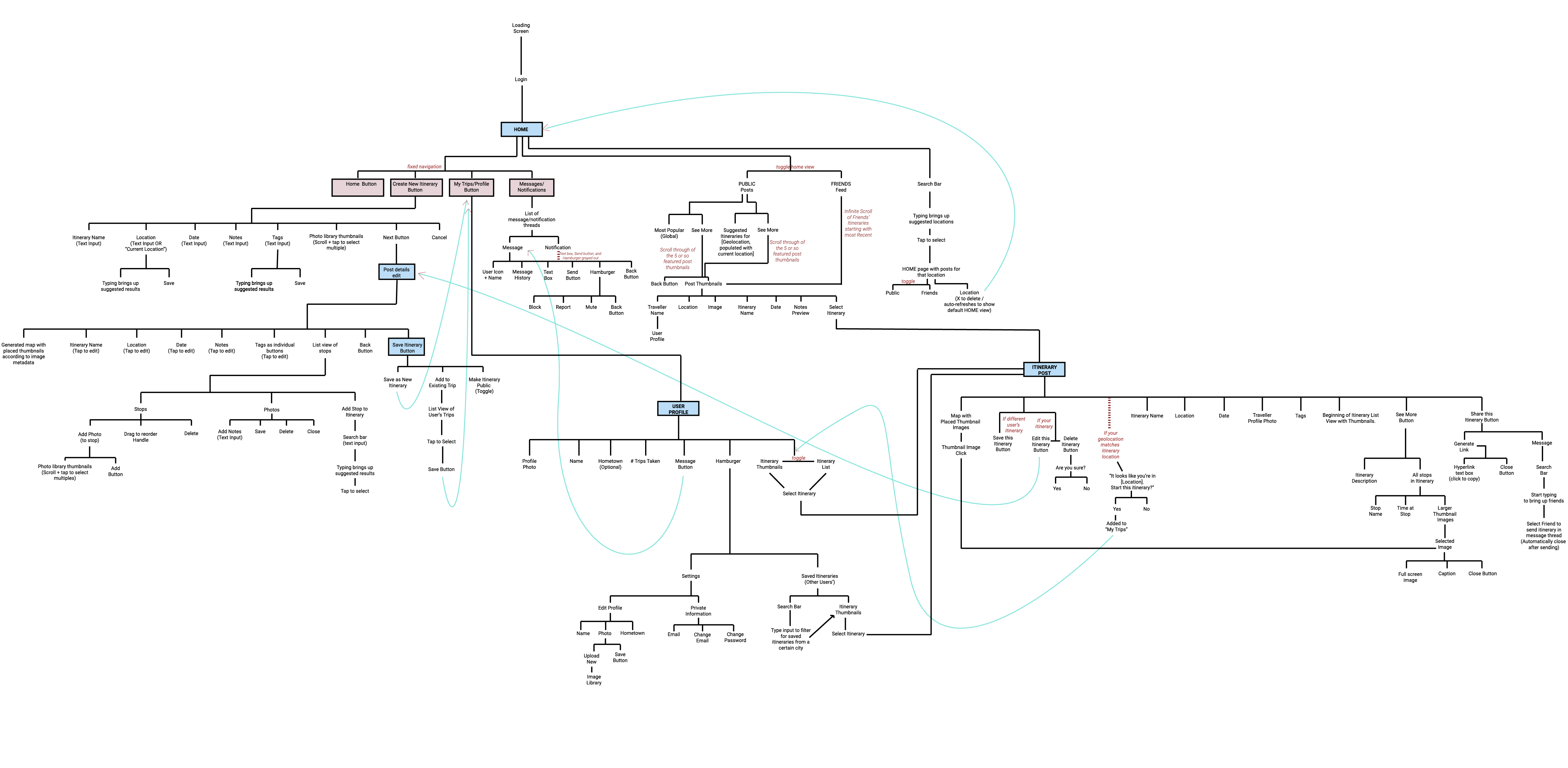 Brand Style Guide
The logo was designed to illustrate how Wayside is a route-based itinerary sharing app. Mint green and soft blue were chosen as our main branding colors because blue evokes images of the ocean and green evokes images of nature. The geometric sans serif 'Mabry Pro' is lighthearted, quirky and playful which are all feelings we want to share with our users. The color are subdued to retain the vibrancy of images and for images/maps/routes to take more real estate on the screen.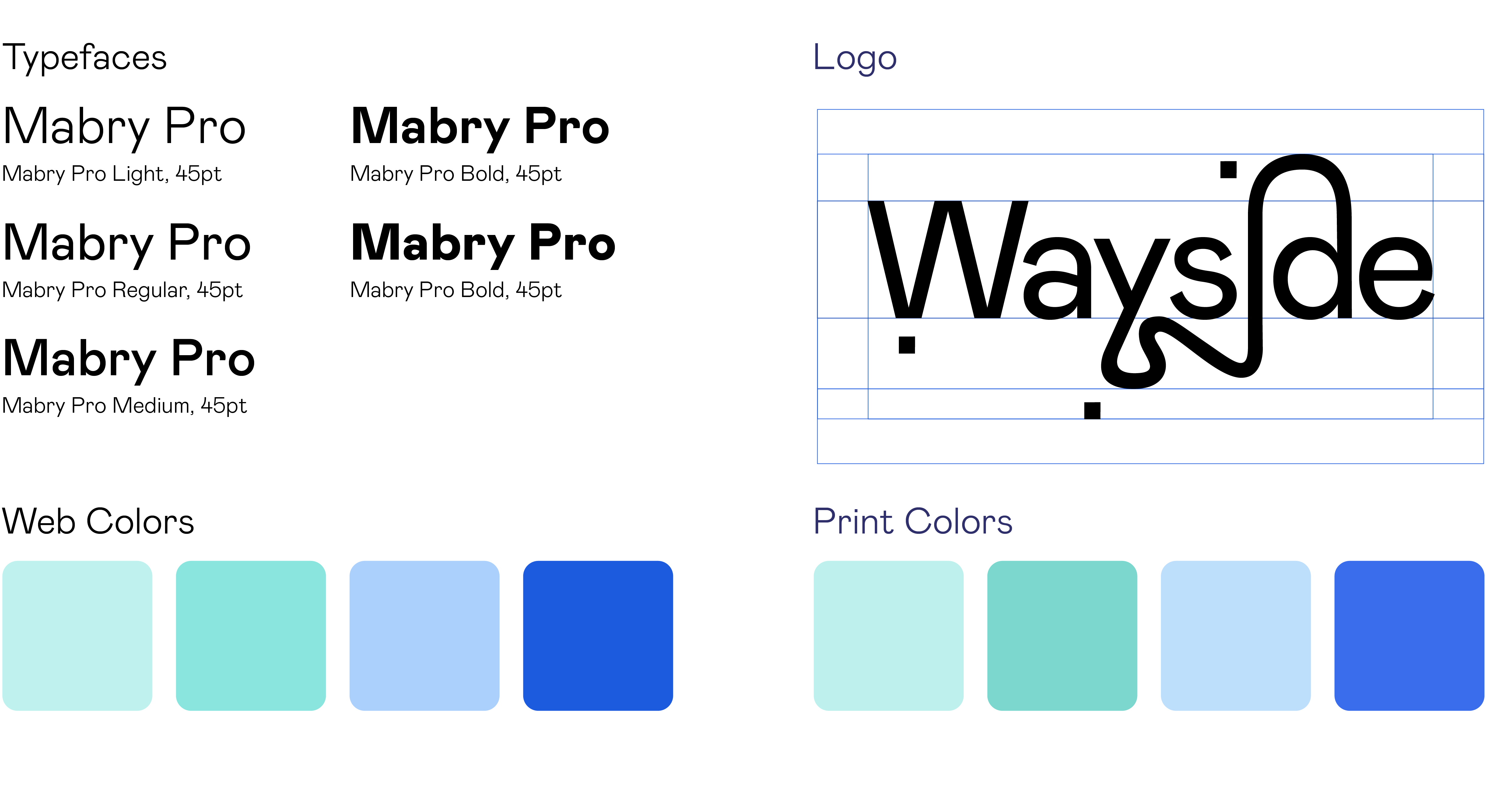 Hi-Fi Mockups
After finishing the style guide, we sketched out a couple of initial wireframes and added our colors to see how it looked in real life application. We wanted to make sure our branding was communicative of our app and that the visual language extended into the app itself.
Promotional Video
With the finalized design, my group and I decided to make a promotional video to showcase how the app works. This gave context to how Wayside could be used in real life and the narrative allows people to get better perspective.
PING-A-JOB
interhacks 2020
role: designer
InternHacks was a six-week program that combined the best of a tech internship and a hackathon. Students received mentorship from tech industry engineers, designers, and product managers, built a community & networked with their peers through project collaboration. The chosen students partnered to work on projects with the mentorship of engineering and product leaders from the program sponsors Netflix, Lyft, IMC, eBay and many more.

I was one of 167 students selected out of a 650+ applicant pool to participate in the inaugural program. My team consisted of 1 designer, 3 software engineers (Caleb Parks, Mamta Shah & Ashley Liu), 1 project manager (Sam Kamau) and 1 mentor (Justine Stewart).

Project Timeline
Week 1: As a team, we brainstormed and consolidated our ideas to reach a consensus on what we wanted to work on as a group. Then, each team member independently studied a particular user journey to identify design opportunities, define the scope of our project and recognize the long-term impact it will have.


Week 2: On the second week, we designed and delegated responsibilities to each team member. We started to think about our project's architecture (tech stack we wanted to use, user research surveys, prototype testing) and began thinking about the project plan.

Week 3: We presented our wireframes on Design Day and won a prize! But even after design day, we continued to develop different iterations and used the InternHacks Slack community to get feedback from different designers and researchers.

Week 4: Alike week 3, week 4 consisted of building different iterations, as per our team's schedule, and also attended office hours to get more feedback on our project.

Week 5: Week 5 consisted of fully developing our designs. We continued reaching out to different mentors and getting their advice on our project.

Week 6: The last week consisted of compiling all of our research findings, user interviews, design process into a presentation deck and finalizing our fully developed website.


Introduction
How can we organize job-search and stay motivated to apply amid a pandemic and an economic downturn?
The economic crisis, caused by COVID-19 coronavirus, has forced many employers to make the difficult decision of instituting mandatory furloughs and layoffs. The pandemic, and the stay-at-home restrictions, has already led to millions of unemployment across the country leaving many disheartened. It is no secret that staying motivated during this time in your job search is almost impossible with the endless rejections and lack of responses from companies.
In a quick Instagram poll, we asked two questions for which the 33 responses were:
Design Opportunity
It's easy to feel discouraged at a time like this but how do we incentivize people to continue their job search?



Stay at home orders have brought a new wave of anxiety, demotivation, and frustration; job hunt adds to the angst. To alleviate this stress, the job application process should become more efficient and stimulating. Currently, no platform promises a shortcut to job search/application, especially when applying to multiple jobs at once, no way of keeping track of all the jobs you've applied to and no incentive to continue this job hunt.

Applying to jobs can be stressful and daunting but giving users a doable list (2-3 carefully curated job applications maximum) and a deliberate "off-ramp" can help them feel positively about the app and their progress. One pain point users have noted is the sheer number of job listings on job search websites; they feel overwhelmed. Longer sessions don't always equal success. By helping users develop a habit of using Ping-A-Job to apply at least once a day can be an effective way to engage and retain users.


Design Solution
Like video games, this job application platform will contain elaborate reinforcement and rewards to maximize motivation. The reward system will act as an incentive to inspire intrinsic motivation in individuals while also offering extrinsic rewards. By incorporating a humanistic touch to this application experience, Ping-A-Job will motivate people to see job hunting in a positive light and help remove the stressful aspect.

People will have the ability to set weekly/interval goals such as a number of applications to send out or a number of cover letters to write and additionally, giving rewards, streaks and other daily application requirements will help people stay consistent in performing tasks daily. From time to time, a daily notification will be sent out to nudge a user to submit job applications but the reminder will not insist on overapplying and instead, will suggest a doable amount ("apply to 5 places today!") to prevent people from feeling pressured. Jobs can be recommended from LinkedIn as well to keep a user from needing to leave the app to find new opportunities.


Preliminary Research
This Harvard Study shows that motivating people to complete mundane tasks can be achieved by showing them a greater picture of what it looks like once it is done.
It gives examples of people trying to pursue a new career for the betterment of their family and providing their children the luxury that they deserve
Instead of using long term achievements as motivators, using an in-app point/reward system will be something to look forward to
This article describes the main challenges of job seekers and our product may be able to solve some of these issues: too many places to look, uninformative job descriptions, not enough information about the companies, lengthy confusing hiring processes and lack of feedback.
User Interview Questions
Motivation Questions
What are people motivated by?
What are some incentives?
Job Search Inquiry
What does people's job search process look like?
How do people job search?
How do they keep track of their job search?
How humanistic is the job hunt/market platform?
What's the demographic of people who use different job search platforms?
Planning/Organization Questions
How do people plan
What do they plan for? (Budget/meal plan/homework/life goals?
What medium/platform/program do people use to plan?
What are some existing applications out there for job hunting?
---
Check out the full user interview responses here!
Defining Scope
After collecting user feedback from a survey we sent out to find out user pain-points related to the job search and conducting market research on the solutions available for users on their job search, we have narrowed down our functionalities.


Job Application Tracker
People create a document/spreadsheet with a list of all the companies they have applied to, with a detailed breakdown of position and responses received. But this makes the job search process time consuming and Ping-A-Job streamlines this process by keeping a record of all applications and organizing them based on the progress.

Job Posting RecommendationsPing-A-Job will use machine learning solutions to tailor job recommendations to each individual. This way, people will have quick access to a list of consolidated job postings from different sites to carry out their job search efficiently.

Reward SystemA major pain point is that applying to jobs can be stressful and overwhelming. Our solution is to simplify the burden of applying and make users feel good about it by allowing them to set 'tasks for today', visually seeing the progress they're making and seeing it get checked off as a reward.
Competitive Analysis
1. Huntr
Good UI Design + Clarity
(Demo Board) Neat + Organized Deck
No Smart Personalization
Does NOT curate or suggest job listings for you
Heavily Dependent on User Input + Motivation
Their "Activities" tab (to-do list) starts out completely empty and is heavily dependent on user input and motivation. Ping-a-Job has the potential to be even simpler and more fun to use.
Statistics are Stressful
138,611 jobs in Healthcare?! All of those huge numbers can stress a user out!


---
2. Noom
To-Do List Interface

Helps users stay on track each day and also celebrates when they've completed it.

Rewarding Weight Loss

Makes weight-loss seem like a less scary, less stressful task.
---
3. Smart Recruiters
Visual Representation of Progress

Gives a sense of achievement

Simple Elegant UI



No Filter Capabilities
(i.e Date of application, role, location)
---
4. Handshake
Category Suggestions

"Popular In Your Major", "Based on Job Roles You're Interested In", "Recommended based on your activity", "Jobs Expiring Soon", and also based on industry.

Tracks Application Status + Interviews
Directly Signup to Events
Design is Bleak


Could add to the dreadful feeling people feel when applying
---
5. JibberJobber
Action Items

"Popular In Your Major", "Based on Job Roles You're Interested In", "Recommended based on your activity", "Jobs Expiring Soon", and also based on industry.

Exporting Action Item/Task
Job Journal (Logging Achievements)
Traditional Spreadsheet (Excel) Approach


(Date of application, role, location)
User Persona
Our target users will range from college students looking for internships and new grad positions, people already in the job market looking to switch jobs, unemployed people in search of jobs to indirect users such as parents, advisors, counselors, and recruiters.

Ideation & Wireframes
Initially, I honed in on specific design elements such as the reward system and the progress bar. This allowed me to narrow down my options and see for myself which ones were working far better than others. I had to take into consideration how progress of application should be shown (calendar-based, or progress-based), how often people should see the rewards and what they would like on their dashboard page.
Final Design
After receiving countless feedback from my teammates as well as my mentors, I was able to make further changes to my iterations. Once my wireframe was set to provide the basic skeleton of my final design, I then added colors to the design. Because our team was under a time crunch, we were unable to make a responsive mobile design but we are aiming to work on it even after this internhacks program.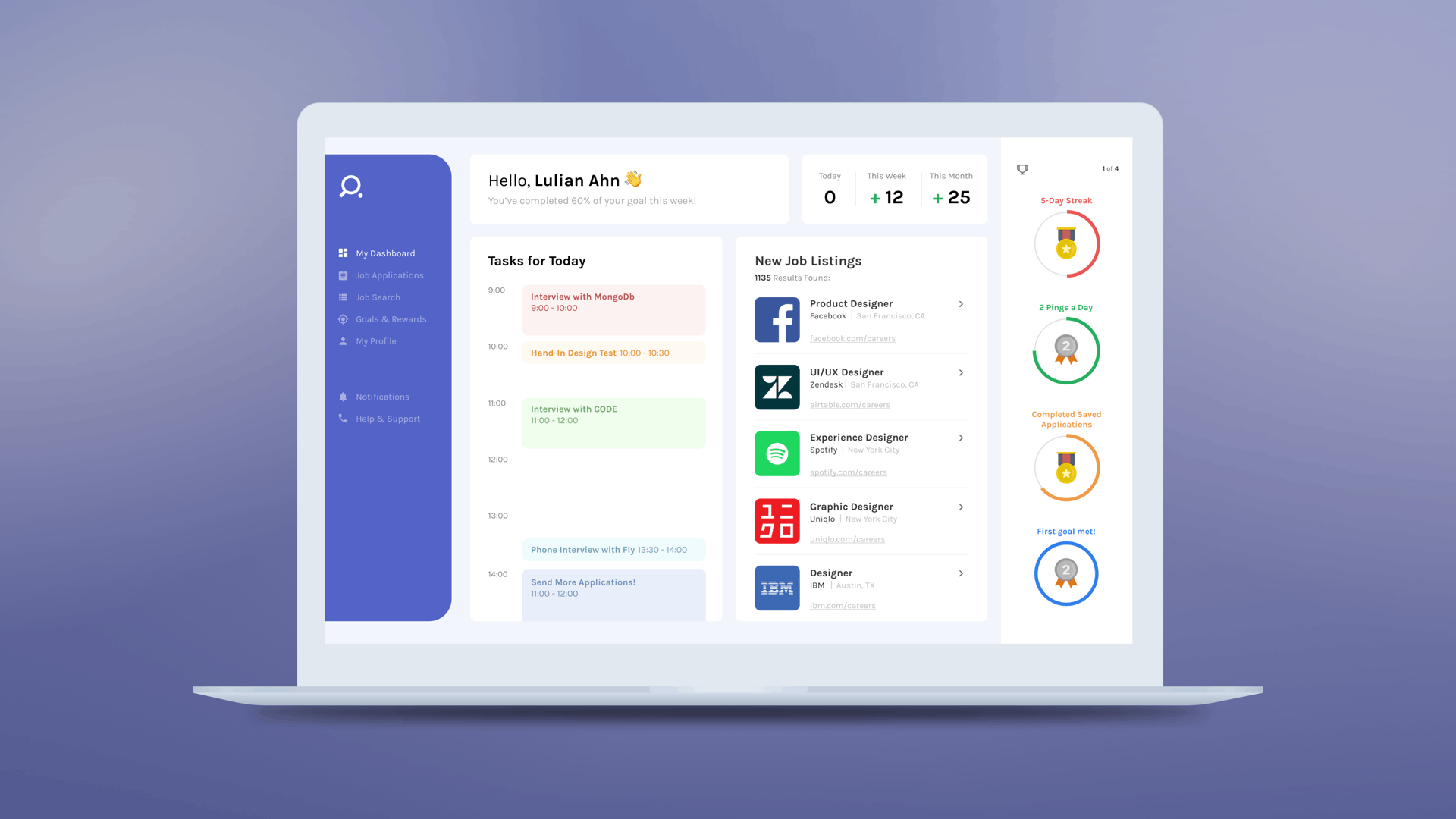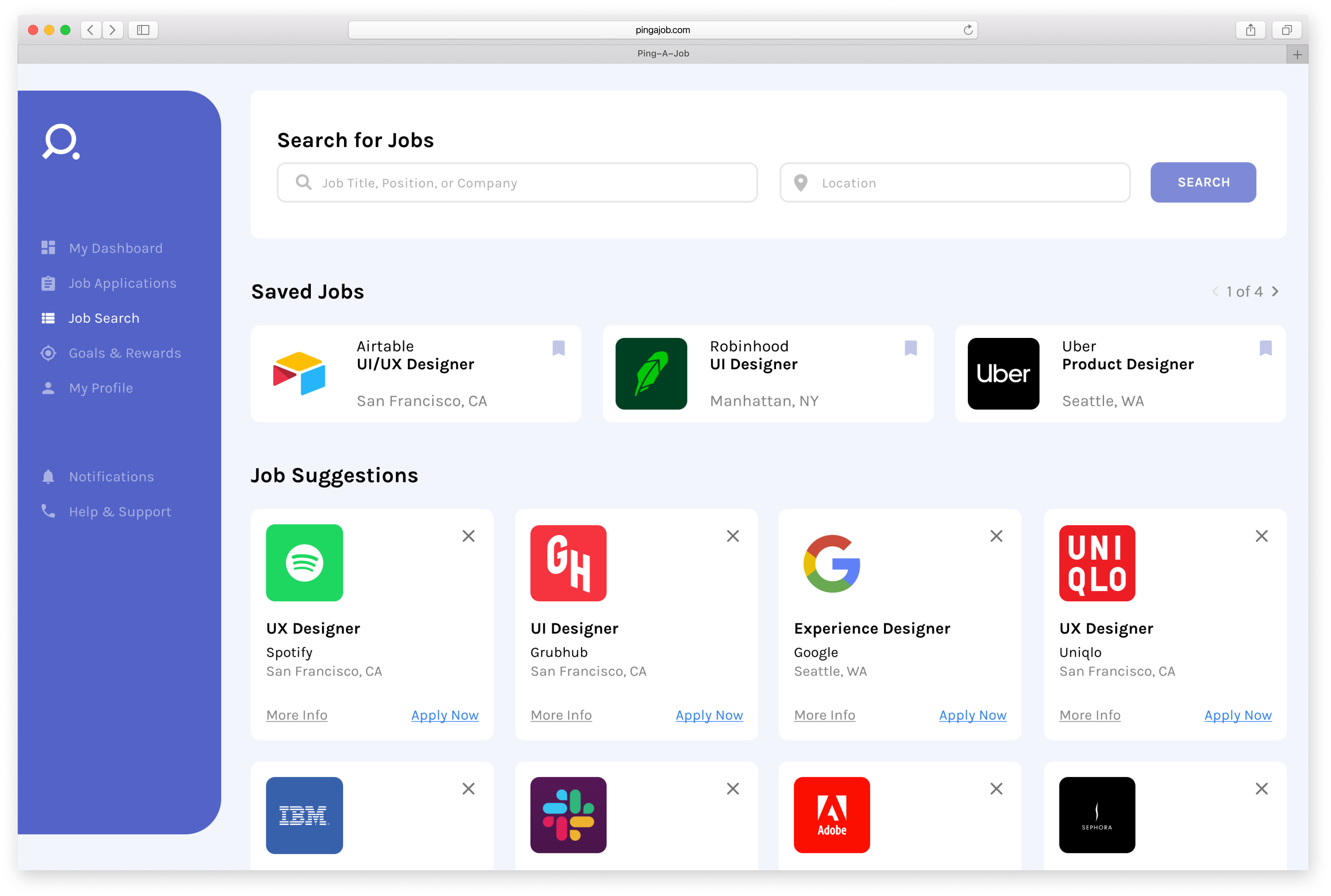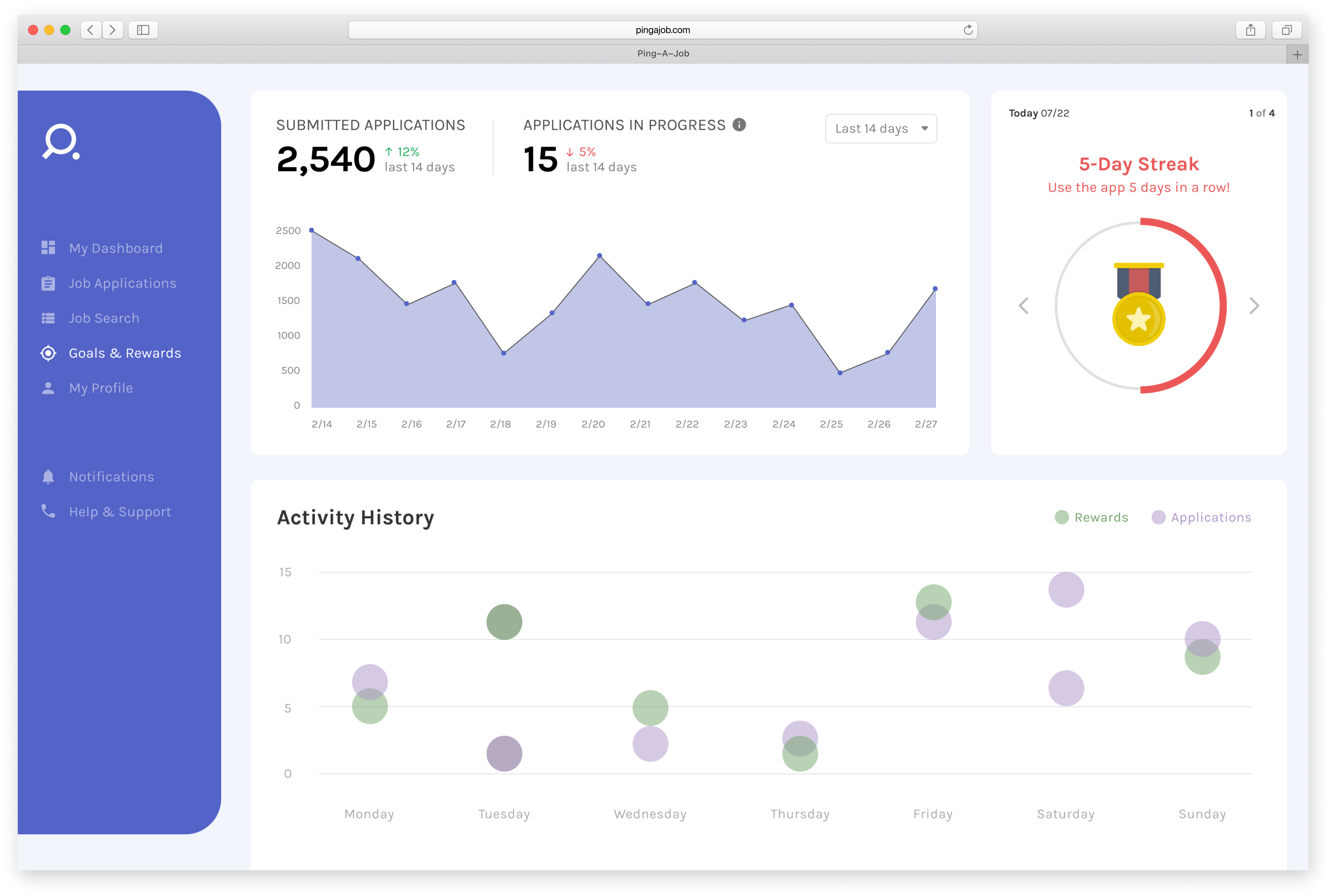 NO COMFORT ORG.
fictitious campaign
brand identity design
No Comfort Organization campaign aims to perpetuate the fight for former comfort women's rights and hopefully this organization can educate and pass on the life stories of the survivors. Additionally, this campaign recognizes the powerful agency and adaptive skills of the survivors rather than portraying them as helpless victims. Whilst spreading awareness, this campaign also celebrates their strong-will and survivorship as a victory of their personal strength, which is shown through the formal qualities of the campaign's branding. The flower petals symbolize womanhood and stolen youth but the firm grounded petals represent the victims bravery and unwavering stance.

This project propagates the significance of preserving history and spreading awareness of the past, in hopes of the victims hearing an official apology, admission of moral misconduct and receiving reparation from the government before it's too late. A lot of campaigns seeking to bring about justice for former comfort women seemingly failed due to the fact that the issue has either been forgotten or had competing historical crimes. However, in order for campaigns to effectively gain attention, it is important for civil society actors to continuously frame particular historical injustices as pressing moral issues and demand atonement.

COMFORT
fictitious netflix show
brand identity extension
Can this campaign live in other spaces?


An estimated number of 200,000 women were forced into prostitution by the Japanese army during World War II. Most of these women were deceitfully recruited with an initial promise of factory employment, only to find out they were taken to be tortured day and night. Justice for these victims can only be sought if the implementation of this horrific 'comfort women' system is acknowledged as a military war crime, a violation of human rights as well as a sexual and ethnic discrimination.Many victims have fought to share their testimonies publicly and with more survivors rapidly passing away, due to age, it is crucial to renew activism on this issue. This extension project is a netflix documentary series aimed to shed light on each and every one of those elderly women with similar yet distinctive experiences. Each episode will be dedicated to each comfort women who are willing to share their story.
MUTTER MUSEUM
museum of abnormalities
brand identity design
"America's finest museum of medical history, the Mütter Museum displays its beautifully preserved collections of anatomical specimens, models, and medical instruments in a 19th-century "cabinet museum" setting. The museum helps the public understand the mysteries and beauty of the human body and to appreciate the history of diagnosis and treatment of disease."

Abnormalities are caused by genetic abnormalities and it can range from mutation in one gene, mutations in multiple genes, a combination of gene mutations and environmental factors to damage to chromosomes. This brand identity takes on a scientific approach in its formal qualities; the forms are inspired by genetic chromosomes to stress the objective of the museum, which is to educate the public.

MÜTTER MENTORS
fictitious program
identity extension

Mütter Mentors is a course, ideally provided by Mutter Museum of the College of Physicians of Philadelphia. It is for people to learn about the museum, learn at the museum and also outside of the Museum!

The Mütter Mentor's dynamic resources serve students, teachers, and the general public. This program combines the many educational and public health initiatives set forth by College of Physicians of Philadelphia.