COUPANG
product designer
team: coupang fresh
(wow membership)
"Coupang is reimagining the commerce experience... Today, we provide exceedingly fast shipping speeds on millions of items including fresh groceries, delivered within hours nationwide, 365 days a year." In tandem with Coupang's core e-commerce platform, Rocket Fresh allows users to order fresh groceries and receive it overnight. Customers who order fresh food items before 10 a.m. receive their items by 6pm.

The COVID-19 pandemic has brought a heightened sense of vigilance to the world. With many adhering to COVID protocols and social distancing measures, people are becoming more reliant on delivery services. This, in result, has soared the demand for online grocery shopping as it provides the convenience of purchasing groceries at the touch of a button.

Now, most of our customers associate Coupang with convenience and fast delivery. Every step along the way, we ask the question:
"How do we make shopping on Fresh more efficient?"

---
Glossary/Introduction
Ready Made Meal Definition:
"A ready-made meal is a prepackaged frozen or fresh meal that requires none or very little preparation besides heating up."
Korean Traditional Meal Composition:
A Korean traditional meal composition is comprised of rice, soup and a couple of side dishes. Koreans will rarely ever have rice, soup or side dishes alone. Each of the item is accompanied by another (whether it is rice with side dishes, rice with soup, or all 3 rice soup and side dishes)
---
How'd this project start?
60% of Fresh Users buy Ready-Made Meals

We came across this interesting data on 'ready-made meals'. Currently on Fresh, more than half of Fresh buyers purchase ready made foods. This means that there's a high demand in the market for conveniently prepared food. This accounts for 40% of orders and 22% of GMV (Gross Merchandise Volume.)

Opportunity Area
Customers are purchasing complementary meal items for a semi-complete meal composition


From this data, we can deduce that users are looking to buy more than just one item (ready-made meal) by pairing items that complement each other. This is the case because Koreans will never have rice, soup or side dishes alone but have it paired with at least one other item.

Problem Statement
Because Coupang
doesn't recommend complementary food group items

to complete a full meal composition, customers don't consider other groups of ready-made food, which results in

reduced enjoyment of ready-made foods
Hypothesis
If Fresh recommends other ready-made food groups

To complement [already added] ready-made food item

Then more customers will order them together

Leading to a better dining experience
Design Solution
1. Endowed Progress Effect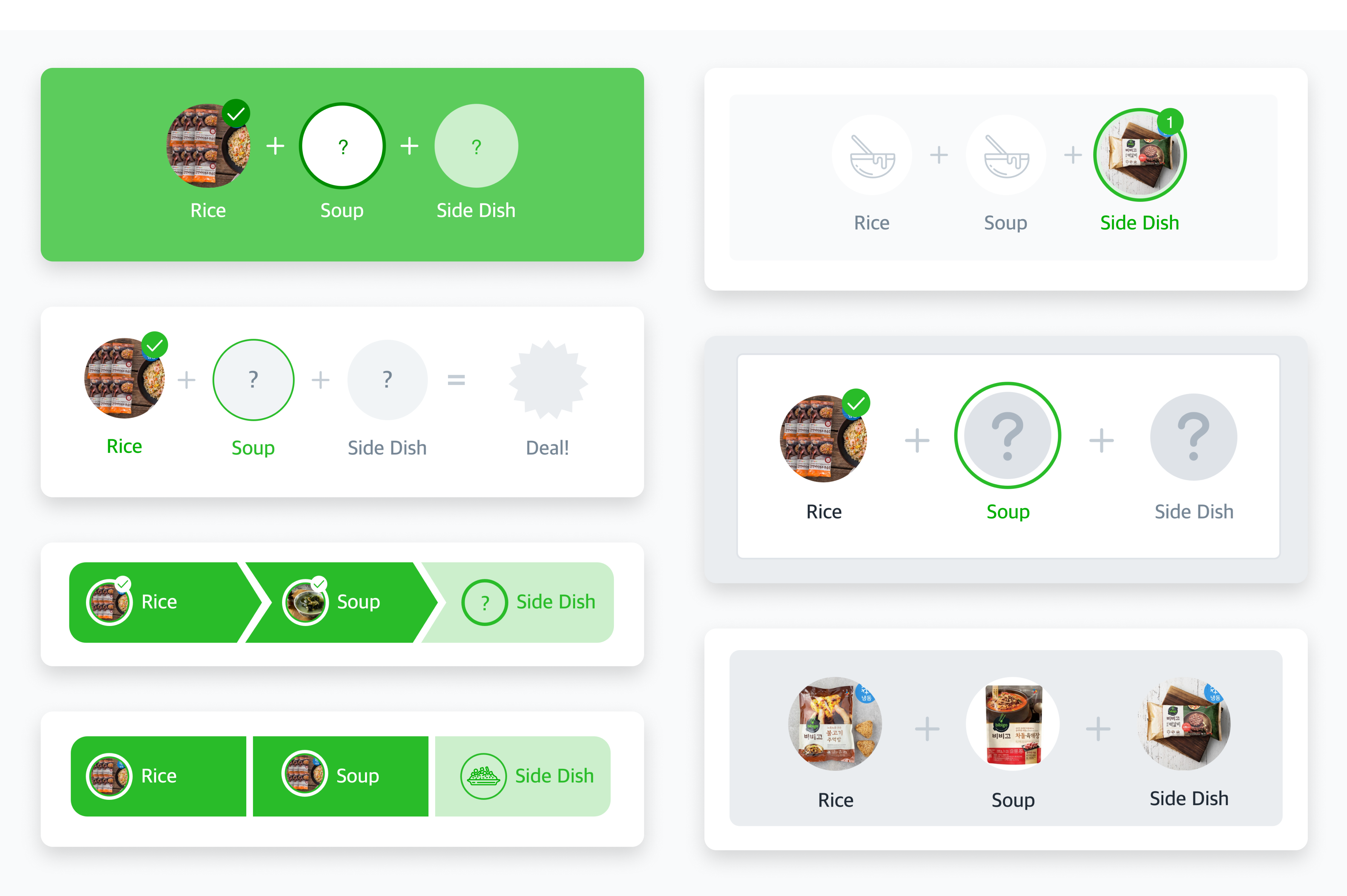 The stamps are made up of 3 meal categories: rice, soup, and side dish (korean traditional meal composition). The stamps will be filled once the user adds an item from each respective meal category and upon completion, users will derive satisfaction from filling in all the stamps and having a full meal composition!
2. Show 'Total Discounted Value'
Coupang is best known for its affordability, bargained prices and fast-shipping. However, when customers are asked to purchase more than their initial intended value, they may feel burdened. In order to put their mind at ease, the total discount value of all items will be displayed below the stamps.
Key Findings
(Usability Testing 1.0)

[PLP: Product List Page]

The 'stamp area' should be clickable to direct users to PLP. The 'more' link is easily missed

"It's just more intuitive to click on the stamps because it looks like it's made to be filled so it catches my eye. I keep clicking the stamps to be led to the next page but it isn't doing anything for me"


---
[PLP: Product List Page]

Add deletability function to the add to cart button

"It's telling me here that I've added 1 item but... can I not delete it here? I guess I could go to my cart and delete it..."


---
[PLP: Product List Page]

Show the total discount value of items from start to finish (even with just 1 or 2 items)

"I would have been more inclined to complete the stamp section had I known that I was going to get a discount at the end of it... Wait am I getting an additional discount or is it the total of what I would have already gotten if I purchased these 3 items separately?"

Key Findings from Usability Testing 2.0
[SDP/Post Add to Cart]

Edit copy to appeal to the emotional side of customers' needs

"Coupang just wants me to add more products so it will benefit them... just a strategy to lure users into buying more products when it's unnecessary on our end"


---
[PLP: Product List Page]

Relocate add to cart button to a more noticeable area

"To add the product, I would tap the listed item and go to the product description page to add it there... Oh I completely missed that button! The density of the colors on the product iamge makes it harder for me to make out the button"


---
[PLP: Product List Page]

Make the prompted feedback (black bar) direct users to cart

"I just tried to tap this black nudge bar because it says the item's been added and I want to check it in my cart... But now it's disappeared. That's weird"
Reflection
Copywriting Changes
Over the course of this project, I was able to have a in-depth review session with our copywriter to reflect our usabililty test findings. Team members (designers, project managers, copywriters) are very hands-on and involved in each and every process, whether it's defining the problem statement, customer job, scoping out the project, rewriting copies and working on design iterations. Through this project, I was able to witness the subtle nuances that alter the user responses.

Iterative Design Process
This project was something that had never been done in Coupang before. That being said, building it from ground-up took a lot of resources as well as efforts from all teams. As designers, we wanted to ensure that usability was in tip-top shape before its release. Each design choices were reflective of our findings and it motivated me to continue working as the progress of our work was evident in our user testings

Time Usage
This project was built from scratch – no design or engineering history close to the feature we were going to launch. Both the time and the resources needed was underestimated but moving forward, scoping the project to it's bare bones and working our way up could have improved our efficiency.